Greg Warren – Running Out of Time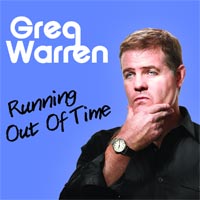 Recorded at The Comedy Attic in Bloomington, IN, Running Out of Time is an honest mix of self-deprecation and "other people-deprecation". Long time fans will immediately recognize Greg's unique mix of punch lines, characters and dialogue. Running Out of Time features thematically connected stories told in a strong narrative voice. Soon to be favorites include "Old Guys at The Gym", "Vay-KAY-Shun", "Eating Alone in NYC", "The Viking", "The Shower Rod", "Pie Chart" and "Wrestling Steve".
---
Greg Warren – One Star Wonder CD
Comedian Greg Warren comes to COMEDY CENTRAL Records with his new full length, digital-only album, "One Star Wonder". Recorded at the Denver Comedy Works, the album features the hits from Warren's previous self-released CDs, including "Flute Man" and his trademark "One Star People" observations, as well as new material such as a segment entitled "West Point" in which Warren recounts his year as a failed cadet at The United States Military Academy.